How To Get Traffic And Make Money Using LeadsLeap
Have you ever wanted to make money and get traffic the same time? I know I have. That's why I started using LeadsLeap. It's a pretty cool tool that allows me to get leads, sales and traffic while it takes care of all the promotion of my website. Makes sense, right? My name is Herbert Flores and I want to show you how it works and teach you how you can start using it too.
Income Disclaimer: LeadsLeap is not a "Get Rich Quick" program. We believe in hard work and just like with any other business, the more effort you put into your business, the more money it can make for you. As stipulated by law, we cannot and will not make any guarantees about this system's ability to get results and/or make you money with any of our products or services.
Follow The Steps Below And You WILL Make Money.
You can make money with LeadsLeap for FREE and I'm going to show you HOW!
LeadsLeap has 4 ways you can earn with its platform that people don't fully utilize to its full potential.
Daily Active Bonus

– View at least 10 ads a day. Your total credits earned on that day will qualify to LeadsLeap dashboard under Money > Daily Active Bonus

Credit Encashment

– Convert credits into cash daily.

PPC Earnings

– Get PPC Widget Code (Paid Per Click), This is where you generate the js code for your PPC Widget. Add this code to your websites/blogs to make money.

Affiliate Commissions

– Referral monthly recurring commissions (Main Focus)
Earn 25% recurring commissions if you are a Free Member.
Earn 50% recurring commissions if you are a Pro Member.
Why Promote LeadsLeap?
If you were to promote a program, it makes sense to promote something with these characteristics:
1) It allows you to earn recurring income.
– This means your one-time effort is going to pay you a lifetime.
2) The product is evergreen.
– This means your one-time effort is going to pay you a lifetime.
3) The business model is sustainable.
– This means your one-time effort is going to pay you a lifetime.
LeadsLeap started in 2008 as an advertising network. Although we have added many many other functions over the years, our advertising program is still working and it is likely to continue working for many many years.
When you promote LeadsLeap, those who join under your referral will be under your referral for life.
It doesn't matter when they upgrade, but if they upgrade, and whenever they upgrade, you earn commissions.
Your commission is recurring. This means as long as they remain as a Pro Member, you earn commissions months after months.
Other benefits
1) LeadsLeap membership is also a 10-level leads builder.
– This means you can reach out to 10-levels of leads in your network, through our unique non-obtrusive message system called Follower Message.
– Read One Signup A Day and see how one LeadsLeap member has built thousands of leads that continue to grow even though he hasn't been actively promoting LeadsLeap.
2) Earn credits on autopilot.
– You earn credits whenever your 10-levels of followers view ads.
– Credits earned depends on how many referrals you have.
Now, I'm going to show you how to create a huge monthly income using $0 to get started! Just follow the instructions to get set up and watch your LeadsLeap earnings grow.
Step 1. Get Your FREE System Link
Simply click here and follow the instruction on the page to create your own FREE system giveaway!
Step 2: Upgrade Your LeadsLeap Account (OPTIONAL)
Now before you go "I THOUGHT THIS WAS FREE!" Let me stop you… It is FREE… You can wait until you have earned $27 in your LeadsLeap balance FIRST if you want because LeadsLeap allows you to use your commissions to upgrade your account as well!
If you are one of those people who want to earn more from your referrals right away straight out the gate, then it's best you upgrade your account before you start sending traffic to your page. If not, you will only be earning 25% recurring commissions up until you upgrade when you could be earning 50%. It is 100% up to you though. But keep in mind you don't have to upgrade to earn commissions AT ALL, EVER in LeadsLeap. You could stay free forever and this would still work for you. You just won't earn as much from your referrals when they upgrade, and you will be kicking yourself. Trust me, I KNOW.
LeadsLeap is only $27 a month and sometimes you can catch promotions where you can upgrade for only $20 a month. However you are going to want to make sure you are upgraded because upgraded members earn MORE monthly.
Being upgraded also has other benefits aside from earning commissions as well such as unlimited hands free traffic to your websites which is what most people use the platform for to begin with. Free referrals and much more.
Step 3. Create Your LeadsLeap Tracking Link
Click on "Track Links" under "Trckapp Link Tracker" on the menu.

Paste in your system link in the box provided and click "Add Now".

Your tracking link URL will now be generated and you can copy it by clicking the "Copy" button.
Now enter a name for the tracking link (Leads Leap Profit System) or you can edit and use "Grab Your Done For You System Now!"

Scroll down the link settings and set "Monetize" to "No" and the "Responsive Mode (Make it mobile friendly)" to "On", then simply click the "Save" button to save the changes.
Step 4. Send Traffic To Your Tracking Link
Now simply promote your tracking link at your favorite traffic sites and watch as your LeadsLeap credits and commissions grow daily!
Click here for my best recommend traffic source where you can get 100 leads daily and promote your affiliate link.

Step 5. Earn Your Daily Active Bonus
How does it work?
Simply view a minimum of 10 ads or Associates' Messages in a day. The total credits you've earned from all sources on that day will be converted into cash.
What is the credit-cash conversion ratio?
There is no fixed conversion ratio. LeadsLeap shares 5% of their average daily earnings with members who qualify, 10% if you are a Pro Member.
You can view your status for the day by clicking on "Daily Active Bonus" under the "Money" section on the menu.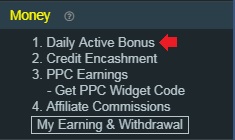 Step 6. Earn With Credit Encashment
Click "Credit Encashment" under the "Money" section on the menu.
This is where you can convert unused credits into cash. Credit encashment is the LeadsLeap credit buyback scheme, i.e. they buy back credits from members who have nothing to advertise.
Cash Encashment Terms
You need a minimum of 50 credits before you can encash.

Limited to a maximum of 1 conversion a day.

The encash amount is your total credits rounded up to the nearest 50.

The encashed value varies depending on the amount of credits you are encashing. Basically the more credits you encash, the lesser the encash value per credit. Hence we encourage you to encash as soon as you can.
Was this helpful?
LeadsLeap is my go-to marketing tool for a long time and I keep coming back to it because it works and always delivers. I've tried so many other systems but none of them are as successful at generating quality, targeted traffic.