How Canva Templates Will Help You Design Your Own Custom Designs with More Ease & Efficiency
Why you should use Canva Templates
The business world is a powerful stage and each brand needs to separate itself. One normal part that brands use to establish a connection or make an impression is design. There a lot of design software available today, and in recent times, Canva has quickly become the number choice of professionals and amateurs alike. Several people have picked up Canva and are now skilled at using it because of its growing popularity. Today, a lot of different professionals sell Canva templates to small and big businesses alike – no matter what their requirements are. They sell all sorts of business-related items, from invoices, to bookmarks, to digital greeting cards, to evites. As a businessperson, you may be wondering if they are worth the investment. The answer is a resounding yes…
Here are some advantages that you can enjoy by purchasing Canva templates from professionals:
Time is money
One obvious benefit that a business enjoys by purchasing Canva templates for various purposes is that the people involved can focus their energy on their core functions. Instead of worrying about what design they should opt for when creating an Instagram post to announce a 500k followers milestone, in-house designers can work on posts that amplify the business strategy and purpose. While social media engagement is a crucial component in marketing, the design team's talent and time is wasted if they work on posts for Earth Day and Thanksgiving. This time can be better spent on other crucial tasks.
Saves you a few bucks
If your company turns to contractors or freelancers for your design needs, purchasing Canva templates for less important posts can help you save some precious bucks. On average, professional designers charge around $45 an hour, which can prove to be expensive if you are hoping to build your followers on social media. By purchasing Canva templates from professionals, you would save hundreds of dollars each month. 
While Canva has an easy user-interface, if you lack expertise in the software, it is very easy to make your designs look unprofessional. Needless to say, you do not want your potential clients or patrons to think you have an amateur design team. A brand's design often makes a first impression on people, so design tasks are best left to professionals in the field. 
When you choose to purchase Canva templates from professionals, you can access a diverse pool of talent. As a result, you could opt for experts with very specific skills, such as Canva template maker who specializes in creating brochures or a professional who works specifically on evites. This way, you can ensure that every post or design of yours is top-notch and epitomizes professionalism. This will not only impress your potential patrons, but also ensure that they take your company seriously.
Typically, when companies hire multiple freelance designers to work on their projects, the design seems to lack a certain level of consistency. But today, with both companies and social media influencers alike focusing on consistent designs in their profiles, you may fall behind. This might turn out to be an issue even when you hire an in-house design team, unless your recruits are well-versed with design and social media trends. On the other hand, if you purchase Canva templates from professional designers, you can choose between several designs to find drafts that align with each other in terms of style, colors, finish, and expertise.     
The above list of advantages is not an exhaustive one, but it definitely covers the most important points. While having an in-house design team undoubtedly has its advantages, every company might not find a need to employ full-time recruits to work particularly on the design functions. On the other hand, with freelancers, it is always a hit and miss. Moreover, the project may quickly become very expensive as many freelancers charge based on the hour. When you engage with Canva template makers, you always know what you are paying for. You can look around and select from a wide range of designs, so you would never be disappointed with the final results. While there may be certain disadvantages with this option, like replicated design or lack of customization, the pros undoubtedly outweigh the cons. If your company is looking to fulfil their design needs, it is worth considering top Canva template makers. You can check out my templates here. If you like what you see, you can get in touch with me and we can discuss how to go ahead with a business engagement. 
START CREATING 
CANVA

 TEMPLATES!

Now, I would like to share this tool that I use to create and sell canva templates.
The Canva Creator's Toolbox™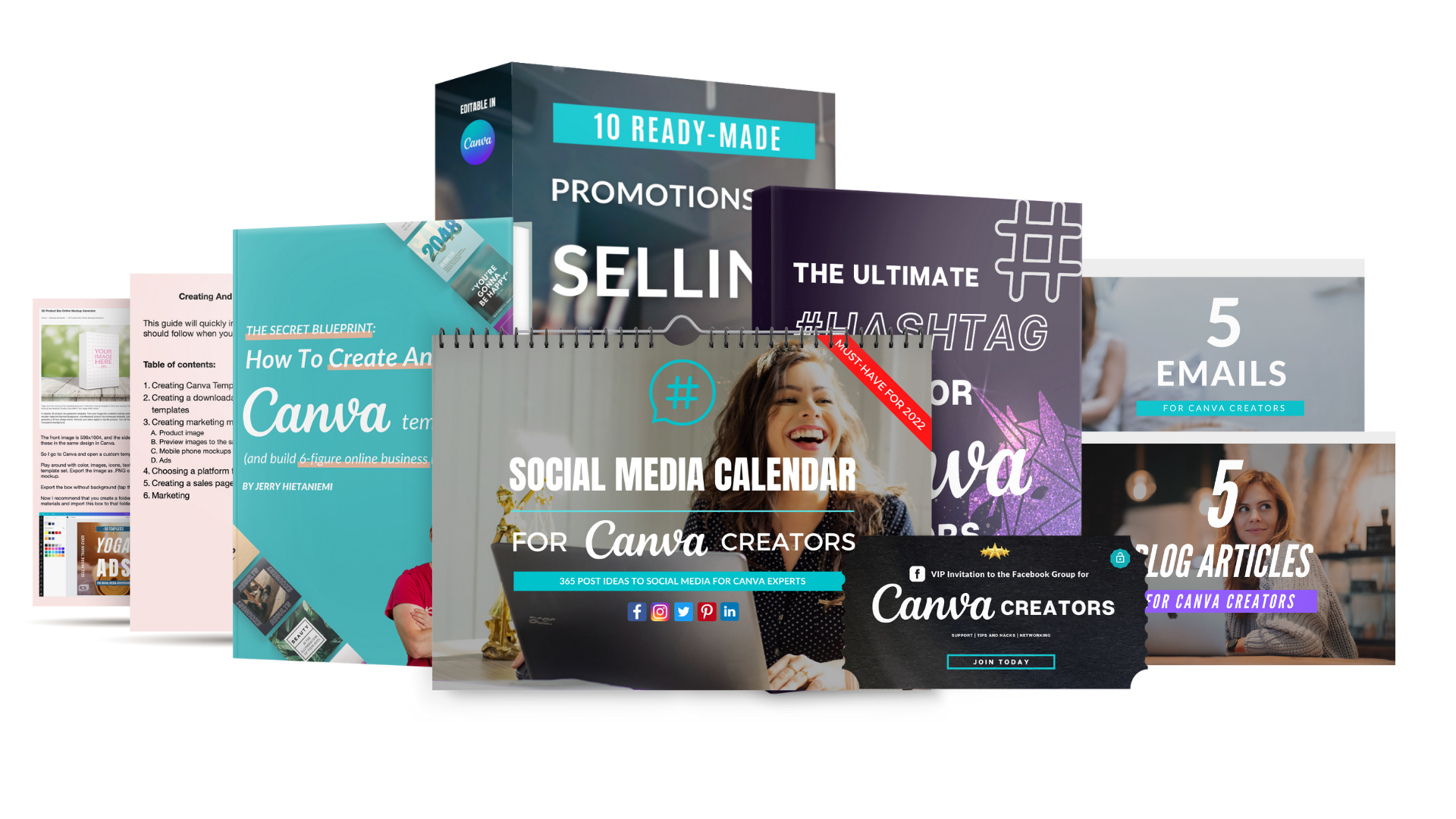 What will you get:
10 Ready-Made Promotions for Selling Your Templates
365 Post-Ideas for 

Canva

 Creators
Jerry's Blueprint: How To Create And Sell 

Canva

 Templates
5 Emails To Build Trust
5 Blog Articles to Improve your SEO And Build Trust
All +500 *Must-Have* #Hashtags for 

Canva

 Creator
Group: Tips, Hacks, And Support!
>>CLICK HERE FOR THE CANVA CREATOR TOOLBOX<<